May
5
Fri
Rotary Club of Harlem 50th Anniversary

@ Alhambra Ballroom Inc
May 5 @ 7:00 pm – 11:00 pm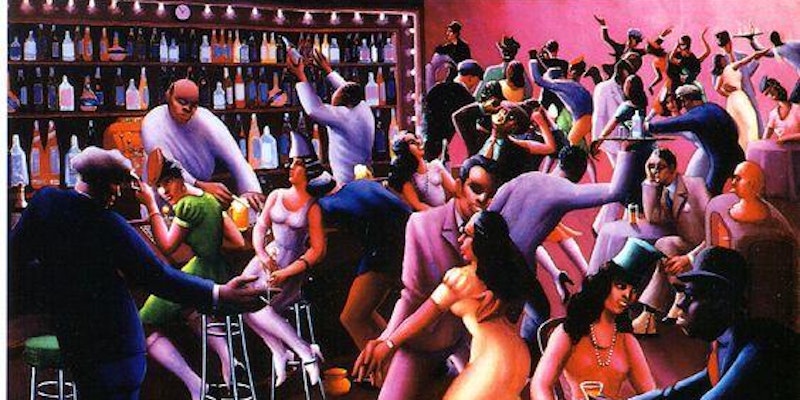 Join us for an evening to remember! The Rotary Club of Harlem makes history as it celebrates its 50th anniversary with "Harlem Nights" – a one-night only casino right here in New York City!
Inspired by the iconic film starring Eddie Murphy, Richard Pryor, Della Reese and more; this evening will be a nostalgical return to the Harlem Renaissance period. Indulge in the sights, sounds, food, drink and culture that defined a generation.
Come celebrate and try your luck at Blackjack, Roulette, Craps, Poker, and more for incredible prizes.
Don't know how to play? No problem!
Our friendly dealers will teach you everything you need to know.
*Casino Games
*Live Entertainment & DJ
*Silent Auction
*Community Service Awards
*Gourmet Food & Open Bar
*Raffle Prizes & More….at the historic Alhambra Ballroom.
Dress to impress.
Harlem Renaissance clothing styles encouraged

Black tie optional.
A night to honor humanitarians, a chance to meet new friends, catch up with old friends, view one-of-a-kind performances, play for charity, win wonderful prizes, and dance the night away in style.
Live perfomances by talented artists as seen in the hit musical "Motown" on Broadway and Fox TV's breakout show "So You Think You Can Dance".
This is an event you will not want to miss!
Hosted By:
The Rotary Club of Harlem
Music by:
DJ Mikey
Live Entertainment By:
Angela Wildflower w/ J.re Music – vocals & live band
Virgil Gadson – professional dancer
Marguerite Sutherland – opera singer
Spirit Sponsors:
Vodkila
Community Service Award Winners:
Announcement Coming Soon…
Proceeds will benefit The Rotary Club of Harlem & its youth initiatives, Active Plus, INC., & The Rotary Foundation.
http://activeplus-nyc.org/
http://harlemrotary.wordpress.com/
EARLY-BIRD tickets on sale NOW until March 21st
All ticket purchases come with play money that will be redeemed for casino chips!
All Tickets Include:
-General Admission
-Premium Exclusive Open Spirit Bar
-Passed Hors d'oeuvres
-Casino Play Money*
-All Festivities
*EARLY-BIRD ticket holders will receive extra chips and chances to win additional exclusive prizes.
Angela Wildflower is an award winning actress & music artist with a passion for stage, TV, and film. Her Broadway debut as Mary Wells in "Motown The Musical", led to tv/film credits including CBS' "Blue Bloods",NBC's The Blind Spot, and the upcoming feature film Roxanne, Roxanne. Currently Wildflower stars as "Samantha" on the web series dramedy "First Dates" (www.firstdates.tv)
Wildflower has a diverse body of work that has taken her across the globe. She was Featured Singer for 3-time Tony Winner, Hinton Battle, in Osaka, Japan; Originated the iconic role of Hailey Daisy in "Venice The musical" (The Public Theatre); and has been seen in regional theaters across the country as Yolonda in "Crowns"; Avenue Q, Once on this Island, All Shook Up, Ragtime and many more! Wildflower is currently touring her "Music Everywhere" concert series throughout New York & beyond.www.angelawildflower.com
Over the years, Virgil "Lil O" Gadson has appeared in NFL commercials, Season Eight of So You Think You Can Dance (top 30), MTV's America's Best Dance Crew, music videos, and has choreographed musicals. He is an avid student and instructor of Hip-Hop dance and he thoroughly incorporates himself into all aspects of the art form.
Virgil was nominated for a Fred Astaire Award for the Broadway show After Midnight (7 Tony nominations) as principal actor/dancer alongside Dule Hill, Fantasia Barrino, and Desmond Richardson alongside numerous other artists.
Virgil appreciates being a teacher, choreographer, and performer as it allows him the opportunity to showcase his work around the world.
Marguerite Sutherland has been performing Opera music in New York City for decades. With a powerful voice and a giving spirit she performs annually at church events and fundraisers all over Manhattan. Marguerite has her own concert perfomance upcoming in June 2017 which will pay tribute to and include music selections by some of the best and least known African American composers.
Marguerite is a proud member of several community service organizations and a valued member of The Rotary Club of Harlem.
January 24, 2017 our club suffered the loss of a very dear friend and faithful member. After a long, hard fought battle with Scleroderma, Chanell is finally at rest. We wish to honor Chanell E. Gatewood's memory by creating a scholarship fund in her name. This scholarship will go towards providing much needed educational resources for children facing hardship from health, economic, and environmental challenges. Please donate what you can in honor of a true Rotarian; who lived a life dedicated to the motto, "Service Above Self".
May
13
Sat
I'll Always Love My Mama First Annual 5K Run

@ Watkins Regional Park
May 13 @ 8:00 am – 12:00 pm
Bring the Family to Honor All Mamas!
---
You're Invited!
Community Youth Advance is proud to celebrate mothers and mother-figures with a family-fun 5k walk/run to promote health, wellness and community. Join our students, families, mentors, staff and board members for a walk or run at your own pace along the trail at Watkins Regional Park and learn more about how we are transforming lives in Prince George's County through our educational and mentorship programs. In addition to our 5k Walk/Run, we will feature:
Giveaways

Entertainment

Fitness Instruction

Line Dancing
Fun for the whole family! We hope to see you there.
– See more at: http://communityyouthadvance.org/meeting/ill-always-love-my-mama-first-annual-5k-run/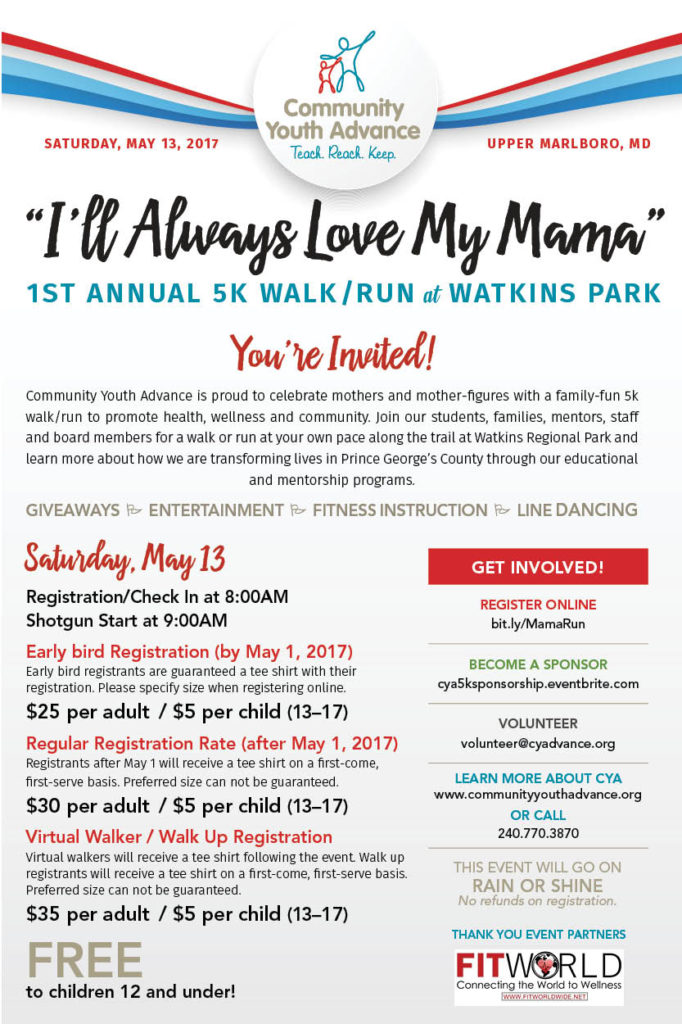 May
19
Fri
Comedy's Most Wanted

@ Beacon Theatre
May 19 @ 7:30 pm
Comedy's Most Wanted featuring Lavell Crawford, Corey Holcomb, Dominique, J.J. Williamson & DC Young Fly* stops at the Beacon Theatre on Friday, May 19. Tickets go on sale Friday, March 3 at 12pm.
*Talent line-up subject to change
On the first day of sale, tickets for concerts are not sold at the Madison Square Garden, Radio City Music Hall or Beacon Theatre Box Offices, and may only be purchased via Ticketmaster.